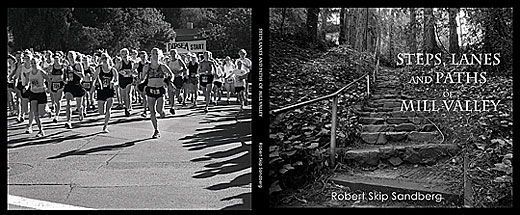 My new hardcover 120 page photo essay (8x10 inches) has 68 images, including all the photos in the Steps, Lanes and Paths Gallery. Historical photographs add a perspective how the Steps developed. There is also a chapter on the legendary Dipsea Race, with photos of the race course from Start to Finish.
Foreword excerpt: "…without imperatives, without force, people use Mill Valley's paths – and we do so daily – for everyday living. Why? Look at these pages. Robert Skip Sandberg's splendid photographs are the paths' testimony, answering back with abundance. Here are beauty, excitement, tranquility and – yes! – fun, explaining why we need the paths for ourselves, for all time. Skip has captured, in these pictures, the weft of Mill Valley, and its simple, joyous, timeless fabric, with stunning artistry."
Victoria Talkington, Mill Valley, CA August, 2010
$29.95 - Regular Hardcover (Sorry, sold out!)
$125.00 - Silver Collectors' Edition. Limited to 250 signed & numbered linen-bound copies, silver gilding, and original signed 8x10 photograph in a luxurious clamshell case.
To purchase the book through this site, use one of the BUY NOW buttons below which will connect you to PayPal where you can purchase with your credit card. PayPal uses the latest anti-fraud technology. PayPal notifies me of the sale, and I will ship books with a week.